Look up hours and open/temporary closed status of our churches:
For more information about tithes and offerings for the Church of God Ministry of Jesus Christ International sorted by countries, click here:
20 December, 2021
Bible Study: SuperstitionsHosted by Sister Maria Luisa Piraquive, worldwide leader of the ChurchLocation: Margate, Florida, USADate: December 17, 2019 Church
[…]
16 January, 2022
Sermon: The Armor of God – Ephesians 6 v. 10 – 20By Sister Maria Luisa Piraquive, worldwide leader of the
[…]
10 August, 2021
Reflection: "Rich Toward God" by Br. Dario Falcon, international evangelist. Spanish version published on August 9, 2021. Church of God
[…]
12 January, 2022
Testimonies from believers of the CGMJCI around the world. God fulfilled promise He made through Sister Maria Luisa and allowed
[…]
24 December, 2021
Be advised that on Sundays December 26, 2021, and January 2, 2022, we will not stream live from the church
[…]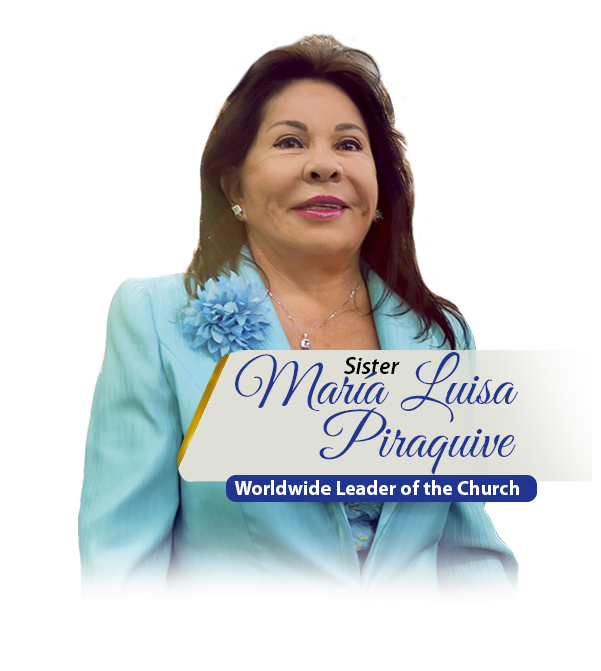 Sister Maria Luisa Piraquive is the worldwide leader of the Church of God Ministry of Jesus Christ International. God first called her when she was seven years old, through this calling He commissioned her to work on helping set aside souls for the kingdom of heaven. The spiritual gifts—as described in the Bible—began manifesting themselves in her beginning in 1972. People attest to have witnessed in her the signs, wonders and marvels that the Scripture states God's apostles and prophets are known for..
This truth is proven day by day. There are countless testimonies from people around the world who bear witness to blessings, benefits, deliverance, peace, and life changes they have experienced. The support from God the Father, the Son, and the Holy Spirit to His Work and the person He chose to lead His Church in this day and age is undeniable.
Sister Maria Luisa Piraquive preaches the Word of the Lord throughout the world, and has conducted hundreds of Bible studies in almost every continent. As a result of her exemplary religious and community work, she has received Honorary Doctorates or doctor honoris causa, academic honors, and many other accolades, as bestowed by various institutions both in Colombia and throughout the world.